Sun Jun 17th
Grannies cannot quite spike HAC's big guns
Photo gallery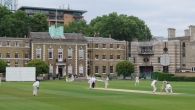 Players
(c) - candidate
Match report
Grannies 222-9 declared
Honourable Artillery Company 223-5

In the imposing surroundings of the Honourable Artillery Company ground in the City of London, the Grannies put up their own fearsome barrage but were ultimately unable to resist the HAC's big guns.
Batting first, stand-in Grannies captain Tom Smith's 86 was at times a brutal knock. Having played himself in, he set about the home team's accurate attack in an explosive innings which dismissed balls – good, bad, it made little difference - from his presence with percussive speed. Truly, this was batting to match the surroundings.
He had, an HAC fielder admiringly remarked, 'big levers'. Certainly it took power and timing to reach the long boundary at square leg off the HAC's elderly purveyor of what purists call 'slow loopy-doopers'. Tom could have done with mis-timing the one which picked out the only fielder on the fence, who made no mistake with the catch. This was a blow. With him at the crease, almost any total looked on.
A couple of quick wickets followed. With the Grannies in danger of subsiding, Digby Don showed what a calm approach and a good technique can do. He defended well and hit the bat ball, picking up singles where he could. A well-deserved – and innings-saving - half-century was the result. Rob Cranston deserves credit for staying with Digby, making a valuable 15.
Another 60 or 70 runs – which looked well within the Grannies compass at one point – would have probably made this a very close game.
Still, the Grannies' runs were on the board and the HAC top order was made to work for theirs on a pitch which, while very good for batting, often had a little bit of nibble in it for the bowlers. Tom shuffled his pack and the HAC batsmen had to be watchful. The Grannies bowling was disciplined, and four wickets were down for just 90, offering hope.
However, the HAC's middle order was excellent, knowing the run-rate was with them and offering barely a sniff of a chance. In short, they went about their business with the air of having batted in this situation before.
Digby took two wickets and a catch to cap a superb all-round performance, but even this could not prevent the HAC's well-deserved victory in an absorbing game.


Match info


Location
Armoury House,
London EC1Y 2BQ