Sat Aug 10th
The Grannies lose by 23 runs
Photo gallery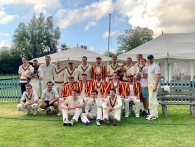 Players
(c) - candidate
Match report
251-2 plays 228 all out. It sounds like complete cruise control for the Flashmen, and a gutsy but ultimately flawed effort from the Grannies - and no whiff of real competition... "Will the Flashmen ask the Grannies for a game ever again?" one can hear the Committee mutter... Fortunately the score line doesn't actually reflect the truth, after all the Grannies posting north of 200 runs is an absolute triumph.

Culham Court is owned by an exceptionally wealthy Swiss financier who inexplicably renovated a pre 2nd World War cricket pitch in the late 2000s. He is also planning on building Europe's largest cathedral in the grounds - maybe it's best to simply not ask questions. It a serious new venue hopefully to become an annual fixture, couldn't recommend it more.

After considerable early morning negotiations with the groundsman and opposition as to whether the wind would blow the pavilion away, we managed to convince all parties that none of our team would ever press charges or dent the insurance premium should one of us get blown into the Thames or felled by a scoreboard. With the game on, we arrived and even did some 'warming up'. The considerable pavilion/marquee was jittery, but never actually took off into orbit - the sightscreens weren't quite so lucky though.

We 'win' the toss and are told to bowl - the covers had been blown around a bit and some damp patches looked fun to exploit…happy enough with the entirely undemocratic toss process. I can only think that 251-2, 40 overs later, they weren't as potent as predicted since our length was impeccable throughout... Bethwaite and Frome opened up and something magical occurred for the first 12 overs. Fielders were actually walking in, bowling was questioning and targeted, the batsmen resourceful, and the fielding ninja. Next on came O Butler who's pace was neatly complimented by overs from W Dunn and debutant J Buck at the 'windier end'. Somehow though, the batsmen were now in and striking relatively freely, one ball was lost in the Thames and both made it past 50. Feeling the need to take the pace off, we turned to the guile of another debutant W Hooker. It worked - they hit another 60 runs but we got a wicket thanks to a strong catch by co-skip Bethwaite right in front of his home crowd. Just before lunch I daringly swapped the gloves for a couple of overs of 'spin' - jury is still out as to whether it was a good decision or not.

Lunch isn't treated lightly by our host team - it's a full 3 course job. Despite this, another debutant H Wilkinson said he fancied the first over after, and bowled at un-granny like pace and accuracy, and 7 overs on the bounce later we had another wicket, and the end of 40 overs... We actually bowled pretty well, they were simply up for the challenge. Honourable mentions also to P Robinson and T Lloyd in the keeping and fielding department.

After a significant tea and rain, Grannies could be seen in semi-comatose states around the pavilion with complete lack of respect for the 2nd miracle manifesting itself before our eyes. We'd stumbled on a serious opening pair - both Bethwaite and Hooker caressed their ways to 50s, and the 100 was up in no time. M Schutz was rudely awoken to replace Hooker, and when Bethwaite fell at 152-2, the win-predictor was still pretty positive. P Robinson stepped in at 4 ready for action. Fireworks followed – for a brief period at least, with the middle order opening up with both barrels. In typical Grannies/kamikaze style though, we were politely aware of outstaying our welcome and so 4 of our members ran ourselves out. Despite this, the genuine possibility of actually winning was palpable - the oppo weren't quite quaking in their boots but they did admit to being surprised we got so close.

It was a match played in fine spirit, genuine competition, and some proper talent. Aside from Butler, Schutz x2, Frome, Bethwaite, and Dunn, we had 5 debutants - all of whom will be serious assets next season.

The final word goes to Rob Frome (standing, back left in picture). It was a great shock to all of us to hear of his tragic death. It was the first time for many of us to meet him and play together - the scorecard just has a name, number, and date - but we will remember much more from that day.



Match info
Also playing: Jonathon Buck, Will Hooker, Tom Lloyd, Peter Robinson, Henry Wilkinson

Location
Culham Court,
Aston,
Henley on Thames,
RG9 3DL