Thu Mar 28th
Grancogs tie for 3rd
Photo gallery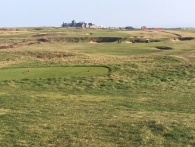 Players
(c) - candidate
Match report
In weather reminiscent of the cricket season rather than late March in South Wales, the Grancogs put in a rather fitful performance against the Free Foresters in the semi final and then the XL club in the 3rd/4th play off.

Boasting a team of 8 with every player claiming a handicap of 10 or less there was great hope that the Grancogs could reclaim the title won for the first time in 2017. However with a few players emerging from hibernation and struggling with their games we went down to the Foresters 3-1 on the Thursday afternoon. The only consolation was that the "1" represented the defeat of Creffield, who was masquerading as a Forester on this occasion, by Philpott and Lock.

Following an extremely long Thursday evening, including an impromptu assimilation of most of the team into a South Wales male voice choir who were in the team hotel when we returned from dinner, Friday again dawned fair, with little wind but thumping headaches.

Notwithstanding this "warm up" the Grancogs raced to a 2-0 lead with the top 2 matches of Philpott and Sanderson and Yeates and Dyson winning some way out in the country. However the remaining two groups were held and then eventually defeated by the XL lower order to leave the match tied 2-2.

As ever it was great fun but the captain reflects on what might have been and is considering whether some warm weather training in Lanzarote might be in order to shake out the winter stiffness before the serious stuff begins.

Match info
4 way golf match against Free Foresters, MCC and XL.

Location
Royal Porthcawl Golf Club,
Porthcawl,
CF36 3UW