Sun Aug 5th
Grannies lose by 10 runs
Photo gallery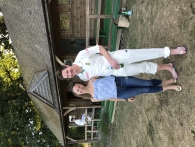 Players
(c) - candidate
Match report
To paly with friends on a sunny day at Falconhurst is a day that can only be described as one well spent. This year saw a close and enjoyable game in which the Grannies sadly fell just short.

Batting first the home team lost wickets on a regular basis with the Grannies delivering a solid all round bowling performance that was backed up in the field with tremendous effort and heart. It was good to see the Lubbock family back in Grannies colours with Lubbock senior keeping with a calm composure whilst the junior branch of the family came away with 2-28. Darren Almeida also bowled with skill that showed glimpses of his international form, with a couple of well worked wickets. It was however, the English all rounder Jono Garforth who was the stand out performer with the ball claiming a 5 wicket haul in a long hot spell. Bowling with pace and with a heart of English Oak he helped restrict Falconhurst to 199 all out in 31 overs.

In reply Jay Stockham was smoothly working through the gears only to wake the skipper from his post tea slumber by being caught for 38. Harry Yeates continued the chase with a watchful 48. At the other end that man Garforth looked as if he was going to get the Grannies across the line only to be caught well on the boundary for 60. The tail did not die wondering but it was not to be their day.
A mention in dispatches must go to Will Jerabek who made his comeback after sustaining a nasty injury whilst playing for the Grannies earlier in the season. Still not 100% he faked a fitness test the night before to ensure an 11 would raised.





Match info


Location
Nr Edenbridge,
TN8 5NR