Sun Jul 1st
Grannies win by 8 wickets
Photo gallery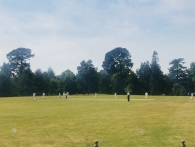 Players
(c) - candidate
Match report


On another hot sunny day there was a now familiar tone to the day when Stanners lost the toss and we had to field. The familiar theme continued with Gibbo ( 1 – 25) opening the bowling but there it stopped with the opposition opener, Jamie Williams, another Granny, losing his off stump to a vicious inswing ball. ( Well that was what he said!)


The Bar then proceeded to put on a strong partnership of about 75 runs, although Billy Maisey bowled interestingly 7 overs for 9 runs, more than half being wides! Mike Fernie (3 – 53) was brought into the attack and had Ed Gross (another Granny) caught at cow by Billy Maisey, the first of three wickets falling to the same combination. The other opener was then LBW to Toby Pullan.

We lunched at 112 for 4 and after lunch, in spite of some early tap, wickets fell with Stanners (2 – 31) taking a couple and Chris Good (1 – 26) another. The Bar declared leaving us a challenging target of 215 runs in a maximum of 35 overs.

Not to be daunted David (Dad) and Ben (eldest son) Pullan opened the batting and soon runs were coming at a rate; in fact we were somewhat surprised when David was out with the score at 35, to see he had only scored 2! Sad to note that Jonny Morris was then out for a duck before Toby (second son) came to join his brother and we were then treated to a partnership of 180 runs liberally laced with 4s and 6s all round the ground to take us home with 4 overs remaining.

We will have to see if "stato" Bluett can find any record of members of the same family scoring all the runs for the Grannies except for extras.

As ever it was a thoroughly enjoyable day's cricket played at a superb venue with excellent catering.

Match info


Location
Sheffield Park,
Forest Row,
TN22 3QX