Sun Jun 24th
Grannies lost by 42 runs
Photo gallery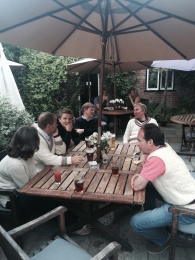 Players
(c) - candidate
Match report
It Was all going so well and then we batted.....

Another great game against the Griffin which looked to be within the Grannies grasp having bowled out the opposition inside 35 overs for 137. This despite an opening stand of 75 by Atkin and the redoubtable Pullan (D). The stand was eventually broken by Alex Stone, who appears to have taken on the Gettes mantle at being disceptively slow. 3-15 was ample reward for a fine spell that brought the Grannies back into the game.Stanners (2-21) & Will Siebert (1-21) made further inroads before the tail was ripped out by Olly Bradley (4-7) with some genuinely quick leg stump Yorkers. That however was as good as it got. 47 extras highlighted a slight waywardness in some of the bowling which in the end proved the difference.

Tea was splendid as ever and perhaps we were lulled into a false sense of calm and well being. The Griffin fielded a more mature team than usual (at one point the 4 man slip cordon had a combined age of 250) but that didn't stop them tearing into our top order. Michael Schutzer Weissman was out for a duck and Bradley managed to miss a full bunger on off stump. Things didn't get any better and at 15-6 the grey haired amongst us knew we were in a spot of bother. Captain Siebert (24) then dug in. The term is used advisedly as his batting was more Spear and Jackson than Gunn and Moore. Alongside Siebert junior (15) they managed to push the score on to 60 before the shovels broke and it was left to guest, Russ Orchard (15) , Stanners (7*) and that old friend, Extras (22), to push us towards 3 figures. Sadly the Grannies fell wide of the total, having failed to get the measure of openers Lutter and Maclean, nor indeed the smorgasbord of slow dibble served up by Hollings and Wilkinson. The Gette would have been impressed.

A final thanks must go to MrJustice Snowden who played his first game since the corresponding fixture last year when he was caught smack on the forehead by a top edge while keeping. Back in the saddle and while there was a certain rustiness to Snowy's keeping, he showed great flare in dispatching the opposition. Perhaps 3 years inside Wandsworth prison for their openers is a touch harsh, but if it gets the Grannies closer to their first win in Fletching for 5 years, it seems a fair price to pay. Here's to 2019....




Match info
Lovely game in the picturesque village of Fletching preceded by a BBQ chez Siebert in Forest Row (players and families all welcome).

Location
Fletching CC,
TN22 3S